Morning Musings on $Money$
For months now I have been actively (daily) working on shifting my own beliefs (the shadow side) around money, and what exactly abundance & prosperity mean to me.
A while ago, I noticed myself feeling very triggered and frustrated, that there are so many women who desperately want to believe in and invest in themselves, but hold back. There is a looming fear, a lack mentality, and an obsession with having not enough money that plagues so many minds.
I realized that I have spent A LOT of energy and time to become very fluid with investing in myself intuitively (even when the cash isn't always there), but this is an area many of us are unfamiliar with exploring. As a society, we have had such deep conditioning and patterning shown to us from the day we were born; parents complaining about debt, friends having more than us, being taught that money requires hard work and that wealth is "hard to come by" & "not for everyone".
✨
My intention in this deeply spiritual & daily work is to help shift the beliefs in the Conscious Collective around money, value, and worth.

To welcome in true sensations of ABUNDANCE: Believing & knowing that each of us are worthy of all the abundance in the world, through financial wealth and unlimited love.
We are all energy, and we are all energetically connected ~ If I can release and shift my limiting beliefs, fears, and worries ?? you can too!
As soon as one person makes a shift, it becomes easier for another.
Imagine a world where we are not first driven by money, profits, or financial gains. What if the world was instead, a place where money was a beautiful spiritual tool? A tool that could help us deepen our awareness of our True Self, and live our our soul's purpose with grace & ease! This is the vision I see daily ?
This morning I asked the Universe to deliver an oracle card to help me deepen my understanding of my role in the healing evolution occurring right now in the Collective…
Her empowerment message for myself and all of us today is potent & powerful!
Please read it slowly, allowing yourself to receive this message through the lens of your heart and third eye, feeling HEALED of all scarcity thoughts & beliefs around money, abundance & prosperity.
✨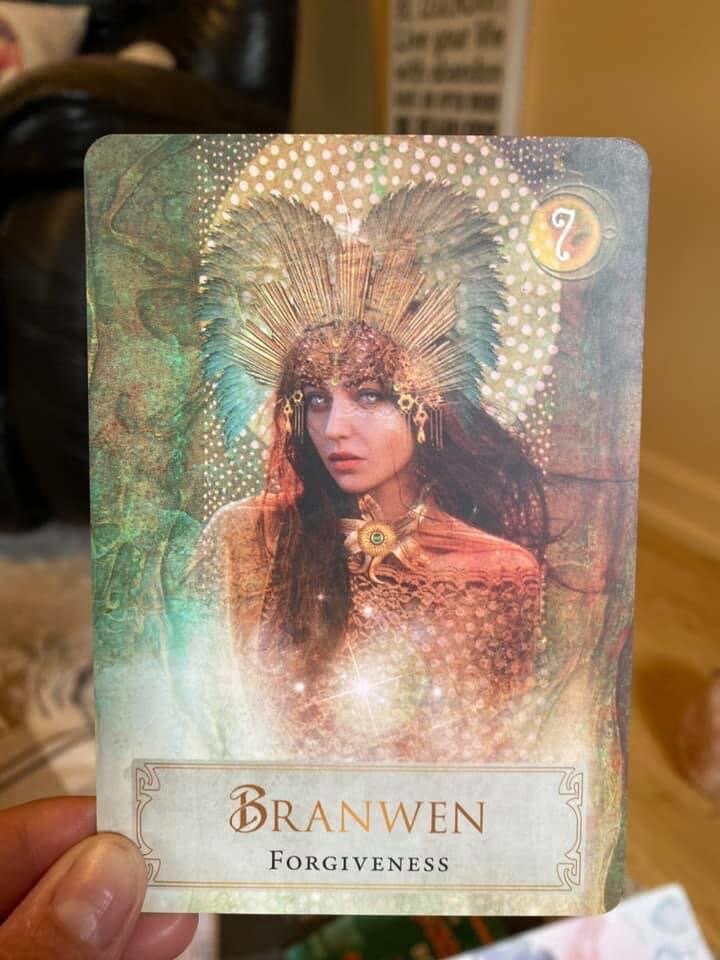 The card read:
Forgiveness, delivered via the Celtic Goddess: Branwen.
~ Where are you allowing your money lack beliefs to choke your opportunities for deep personal growth & expansion?
~Forgiveness is ALWAYS the key to freedom! Hate in your heart will consume you. This also includes hate/distrust/fear of money!
How does this resonate with, or have you feeling triggered? I would love to know your thoughts, takeaways & experience after reading this post, in the comments below.
❤️??❤️
PS: I KNOW there will come a time when I am guided to host an abundance workshop or course. I would love it to be now, it I am awaiting the intuitive guidance. When it comes, will you join me?