Money. Success. Freedom. Brilliance. Prosperity. Investments. Profit. Charity.
What arises in you when we read these words? 
A blend of pre-programed stories about each word & its role in this world?
Do you feel a heaviness when it comes to money, knowing there is always enough, but sometimes you'd like more than enough?
I'm curious, does this sound like you…
✓ You know there is more than enough for every being on this planet, and yet you still struggle to have an overflowing bank account
✓ You're aware of the sacred gifts of daily gratitude, and yet you still find yourself in the woes of self-depreciation and frustration often
✓ You see yourself as the person who shares openly and freely, but this crippling question of "but how will I make more?" plagues your mind
The fact that you found your way to this page in this exact moment, and that you can resonate with those statements above leads me to believe that you are SO READY to:
✨ claim your purpose in this world
✨ create a lasting healing impact
✨ be financially supported along the way
And my dear, you're in the right place at the right time! I am ELATED to introduce you to the course that is about to transform your entire experience with money, abundance and consciousness, literally.
May I present to you…

This course is unlike any other course you've done before. It includes tangible tools, conceptual frameworks, daily practices and community support.
✨ You will fully EMBODY these principles, not just learn them cognitively.
✨ You will be with a commUNITY of support allowing for a sense of connection and collaboration with your soul family.
✨ You will create your sacred daily practice to embody abundance.
Through specific pranayama, meditation and journalling practices cultivated uniquely for you and your money story, you'll begin to shift your belief systems from lack, doubt and fear to ABUNDANCE, POSSIBILITY & LOVE.
Upon registering you'll be guided to the exact book(s) to welcome into your life to begin this transformation from the inside out. You'll receive printable worksheets, powerful intuitive coaching and join community discussions to re-emerge as your True Self.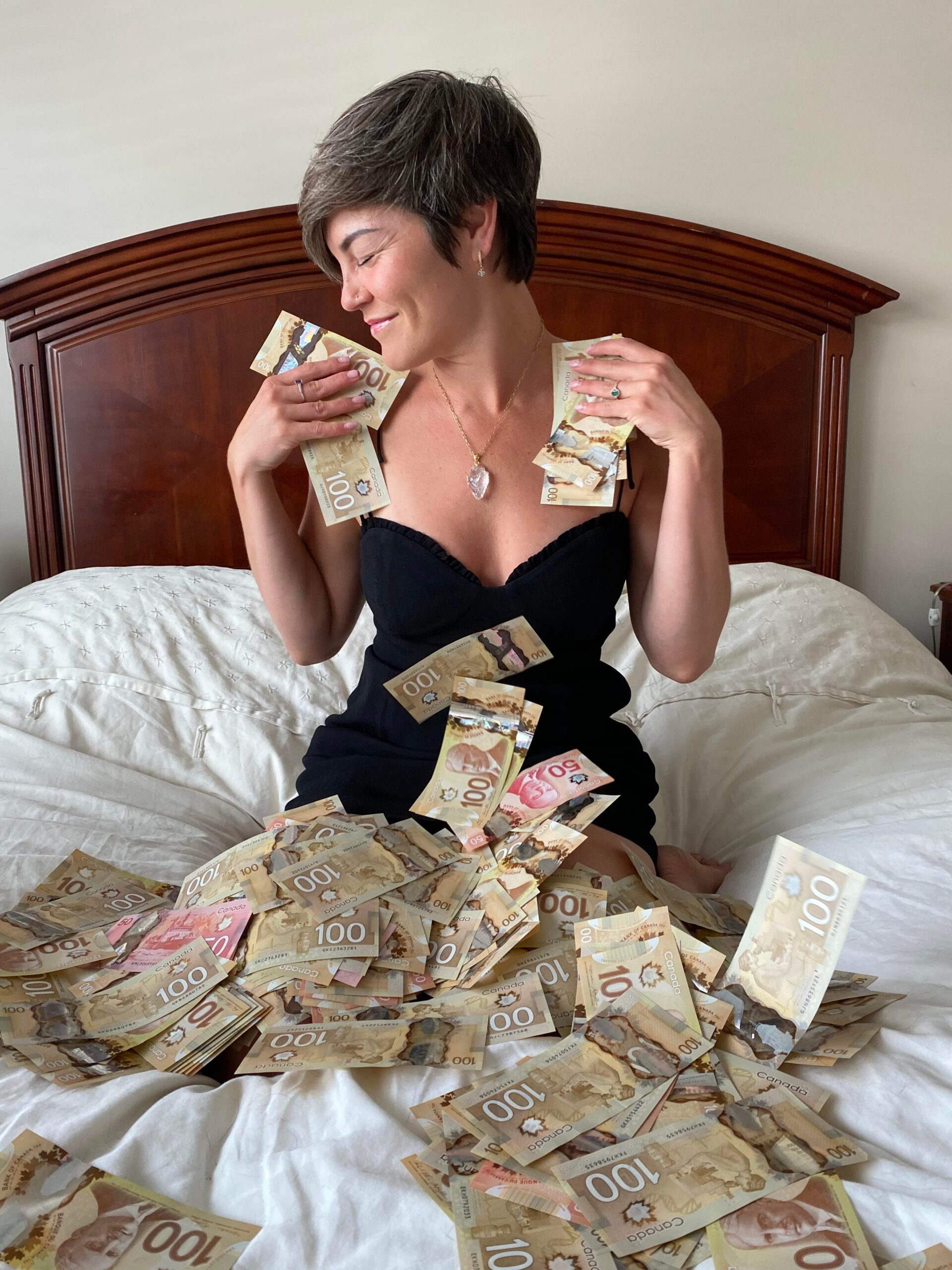 Imagine waking up knowing exactly what to do to activate your innate Truth of Infinite Abundance and how to stay in this frequency; radiating LOVE and JOY all day long.
How would this impact your business?
How would this impact your relationships?
How would this impact your generosity?
How would this impact your leadership?
Embodied Abundance is about so much more than actualizing money (although that is an incredible perk). It's about expanding your consciousness beyond pre-programmed lack and into our true essence of UNITY.
Embodied Abundance is about rewiring your neural pathways to allow a free-flow of kind, loving inner self-talk directed both to you and everyone around you.
Embodied Abundance is about honouring your sacred soul gifts and purpose here on this earth and allowing that essence to radiate from your center every single day.
And yes, of course, it is also about manifesting more money in your life so you can invest more, share more and play more!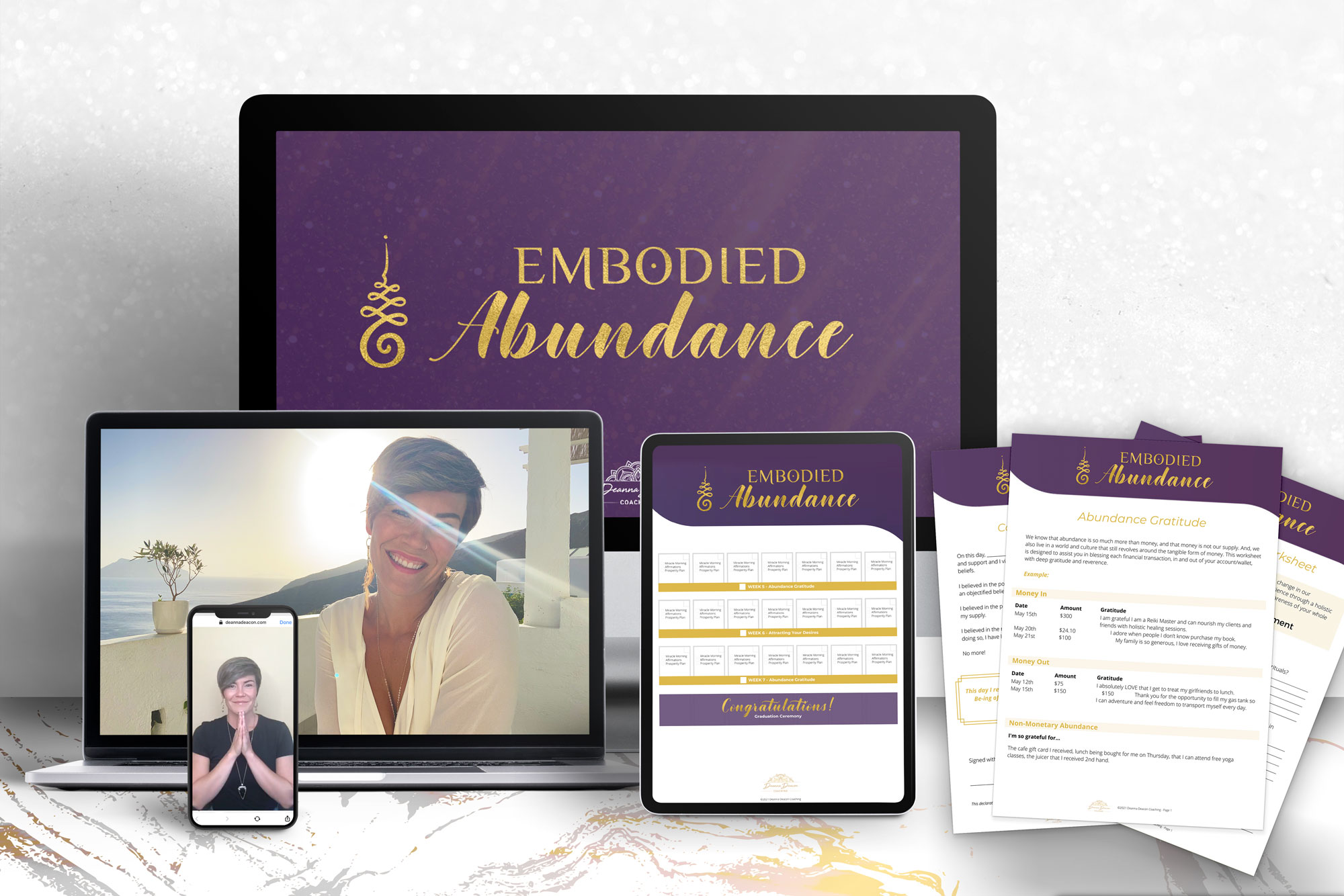 This course is delivered in 4 training modules with strategic daily practices for the entire length of the course.
Module 1 ~ Aligning Your Money Beliefs 
We'll take a deep dive into your current beliefs & fears around money & lack in order to begin the releasing process. You'll be guided through a powerful releasing journey to create space for your new beliefs you are ready to claim as your Truth and reality. 
Module 2 ~ Understanding Consciousness & Abundance 
As you deepen into your releasing phase of letting old beliefs go from your awareness, you'll begin to create space for new possibilities. At this time we will explore what consciousness and abundance truly are and how you desire to co-create within these spiritual frameworks.
Module 3 ~ Heal Lack, Radiate Love 
As your abundance begins to become more accessible, you'll notice more and more thoughts/sensations of wanting to heal more, love more, give more and BE more. At this perfect moment in your evolutionary journey you'll learn how to consistently align with love, allowing previous programs of lack to dissipate (for you and future generations) and what it feels like to be a radiating light of love in this world.
Module 4 ~ Living a Prosperous Life 
What becomes possible when you align with your Truth of Infinite Abundance; EVERYTHING! Start understanding how to work with your energy as you tap into your infinite potential and infinite prosperity. Learn how to lean on your intuition as your sacred guidance system to fulfil your soul's purpose with ease and grace.
All members will receive lifetime access to these modules to repeat this journey every time they desire to increase their financial flow and healing impact with humanity.
Guest Expert Workshop:
Multiple Streams of Income & Overcoming Hardship
Karen Peterson, Owner & CEO of Blissed Out Yoga & Fitness
At age 34 yoga found Karen in a Treatment Center where she was recovering from a life long addiction to alcohol and drugs. Karen has since recovered from a seemingly hopeless state of mind and body and has dedicated her life to the practice, study, and teachings of yoga.
Karen is the owner and operator of Blissed Out Yoga and Fitness Studio where she uses the space as her platform to help others heal so that they may discover their truest nature.
In this workshop Karen will share the immense value of opening to receive multiple streams of income to assist your own conscious growth as a spiritual being.